Hi! Thanks for visiting!


Finally, I've finished the Union!! YEAHHHHH!!!!>3<
Right now, I'm thinking about making Helios as well as Others too.
But translating their names are much harder than I thought.....;0
I'll be back on December, if I made my mind to make more Cyphers hehe:)
If you have any questions, leave comments!



Update
Nov20,2012
-Rebecca the Steel
Underground Union Finished!
Nov17,2012
-Peter the Wonder
Nov14,2012
-Lleyton the Electro-Buster
-Eagle the Fleeting Sword
Nov10, 2012
-Niobe the Inferno
Nov5, 2012
-Trivia, Queen of the Night
Nov1, 2012
-Cannon Doyle
Oct 29, 2012
-Demolisher Huton
Oct 27, 2012
-Louis the Frost
-Thomas the Conductor
Spoilers are on the bottom!

Hytei
She's my best friend and has FF creations! Check out!









What is Cyphers?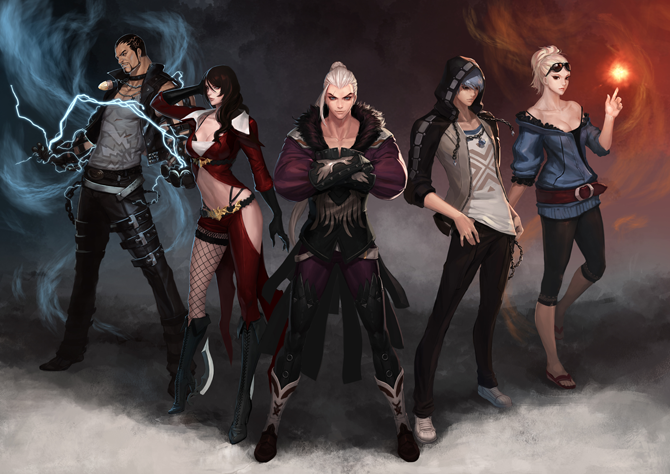 Cyphers is a Korean action MMO developed by Neople. Cyphers is a full 3D arena-based fighting game re-imagined from the popular Dota template.
(from mmoculture.com)
Prologue Translation might be added soon...or not

Description of each character is my own translation of actual character's profile. It might have some mistakes so if you're able to read Korean, I recomend you to read it from here:)
Cyphers offical page

Cyphers Official Clip


To see other fan movies, click Unboram's Youtube !



Underground Union
Unified by Hyde the Black Flame,
its symbol contains Camorra Mob's fist, Central European partisan union's flame and Ireland's spear.
Currently allied with Helios

It changes at LV50 and LV150
LV50, character's pose is usually in pairs. Such as Louis and Thomas, they're looking opposite side from each other.
LV150, character is using their ultimate ability.



Foundation of Helios
Established by Henry Miller III , the Gleaming Lord,
Helios is originated from [Noble Pathway] foundation.
After WW1, join of the Spain Imperial Dragon knights made the Helios much bigger and powerful.
Currently allied with Underground Union.






What is Hakuouki?
Hakuouki: Shinsengumi Kitan

Hakuouki: Shinsegumi Kitan (薄桜鬼 〜新選組奇譚〜, Hakuōki ~Shinsengumi Kitan~?) is a new anime series animated by Studio DEEN, and began airing in Japan on the TV Tokyo network on April 4, 2010.
Based on the popular otome game of the same name developed by Otomate, it follows the story of Yukimura Chizuru, who travels to Kyoto to search for her missing father, and the Shinsengumi.
(from wikipidea)


My creations are based on the game:)
P.S
description written on each creations are the translation of character introduce in game: Hakuouki manual
...might be wrong a little bit because I translated it :p
but at least I didn't make that up<< ..except Kaoru...<



Normal ver
It changes at LV30 and LV60
Lv30, character is wearing its japanise clothing and at LV60 western style clothing that appeared in the game.




Rasetu Ver
It changes at LV30 and LV60
Lv30, character is wearing its japanise clothing with Haori and at LV60 western style clothing that appeared in the game.
Also, characters are Rasetu form:)
(*Actually, there aren't Rasetu form of both Harada & Shinpachi. .....but I'll make it anyway HEHEHEHE:p)





2010 Calender Ver
It changes at LV30 and LV60
character is wearing clothing that was illustrated on Hakuouki 2010 calender
LV30, normal character / LV60, Rasetu Ver character.
(*Chizuru is on her Oni-form)

Retired







Hijikata X Chizuru
It changes at LV45 and LV85
it is following Hijikata Rute of the game "Hakuouki".
Egg, Prologue Part
LV45, Hijikata & Chizuru in their western clothing, right before the Last battle
Lv85, Ending Part
.....not sure I can draw other Ver of this.......O<-<


Hint and Links!!

(click to adopt!)

For Hijikata = "What is the name of a medicine he used to sell during his youth?"
It appears in Anime & Game also.
Two words without capital and space, last three spellings are not included.
(*Look for Wikipedia, Hijikata Toshizō )

For Chizuru = "How many people in Shinsengumi knows that she is a GIRL?"
Simple number. Count those who are member of Shinsengumi only! But don't forget to include two people!
OH!!!my mistake, miss counted....Thanks Hytei! Chizuru Password is changed:p



*Remember to adopt Hijikata first!!
and they should be evolved together!!
or it will look VERY weird:p




What is Aion?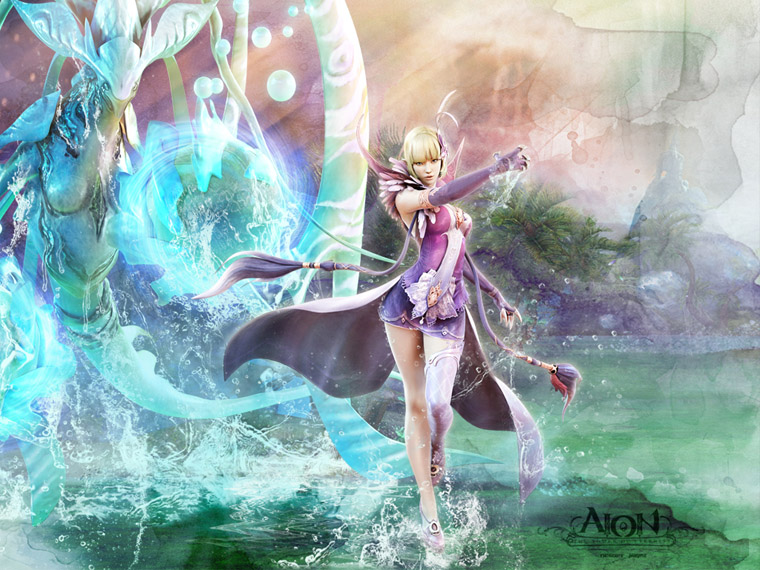 Aion: The Tower of Eternity

Aion: The Tower of Eternity (Korean: 아이온: 영원의 탑), known also as The Tower of AION (タワー オブ アイオン?) in Japan is a massively multiplayer online role-playing game (MMORPG) released by NCsoft, a major Korean game developer.
Aion was (up until May 20, 2009)[citation needed] known as "Aion: The Tower of Eternity" but it was released in North America under the one-word title of Aion.
The game combines PvP and PvE (a concept the developers call PvPvE) in a fantasy game environment.
(from wikipidea)


My creations are the spirits that can be summoned by "Spirit master"
...actually, my character is the Spiritmaster lol





Decided to show all stages:) See the spoilers!


(*Spoiler. click the picture !)

Original
Illusory skull(Female & Male)
Aion

Summon Fire spirit & Summon Wind spirit




Cyphers
Underground Union
Louis the Frost
Thomas the Shard Conductor
Demolisher Huton
Cannon Doyle
Trivia, Queen of the Night
Niobe the Inferno
Lleyton the Electro-Buster
Eagle the Fleeting Sword
Peter the Wonder
Rebecca the Steel
See them all in slightly bigger image!
Foundation of Helios
Hakuouki Normal ver
(*Tip: Kaoru is a boy:p)

Hakuouki Rasetu Ver
Todo Heisuke
Nagakura Shinpachi
Hakuouki 2010 Calender Ver
Retired
Special
HijikataXChizuru
*Private

ESTA-Hytei's Ego Weapon(big size)
(*made for Hytei only. ....It REALY looks awful on squiby size.....OMG Evolve at LV30 & LV100)
미안해;ㅁ;ㅁ; 다음번엔 ì œëŒ€ë¡œ í•´ë³´ê² ìŠµë‹ˆë‹¤O<-<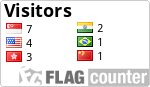 TingRe
Last Online: 05/23/13 11:05 am
Species Adopted: 186
Species Created: 24

Add user to your watch list TingRe's Blog

Mail TingRe Add as Favorite

Write Testomonial
Comments
Less_Lye


01/16/13 @ 1:34 pm
I Love your work! I love Hakuouki, thank you i'm glad to see them here :)
vivalacathryn


01/08/13 @ 2:58 am
do you know if there is any way to get the Cypher game in the United States?
Hinater


12/24/12 @ 12:27 pm
Hi,
I would adopt Hijikata X Chizuru, but I'm sure Hijitak is sanyaku Ishido, but that's not what I understand could you help me please do

and happy holidays and good Eve


SpawnWanted


12/21/12 @ 2:43 am
I love Eagle! Do you plan make more?
xHeartless


11/24/12 @ 3:02 am
Ooh D: for me.. I'm into B4A1 XD
shadow516


11/21/12 @ 11:37 pm
?? ????... 3?????? ??? ???? ??
Hibarijustyou


11/21/12 @ 10:36 pm
Really great *O*
( adopted all Cyphers) X3
and Clicked back =)


xHeartless


11/21/12 @ 3:59 pm
W-wait.. *shocked* woah.. that's so amazing! XD Ahaha! Who's your favorite band? * u* )/
Hibarijustyou


11/20/12 @ 11:06 pm
HI~
I just want to tell...your creations (Amazing)
Especially the last ten ~ =)
xHeartless


11/20/12 @ 8:46 am
o//o I never though you would reply *needs air*
Yuush ~ Huge kpop fan over here * v *)/ You're too?
TingRe hasn't received testimonials yet !
Click Here to write testimonial for TingRe
Adoptions Created
Favorite Adoptions
Categories
Default
Favorites
Finished
Mine
Hytei\'s